The Cedar Pocket Dam water supply scheme is located near the town of Gympie.
The Cedar Pocket water supply scheme has 11 bulk customers holding the medium and high priority water access entitlements.
It was established in 1985 following the construction of the Cedar Pocket Dam, to support irrigation for the local dairy industry. All irrigators take their water supply directly from the natural water courses. Cedar Pocket Dam is concrete gravity dam that holds up to 730 ML. Releases from the Dam are made manually.The scheme is regulated under the Mary Basin Resource Operations Plan (ROP) issued September 2011.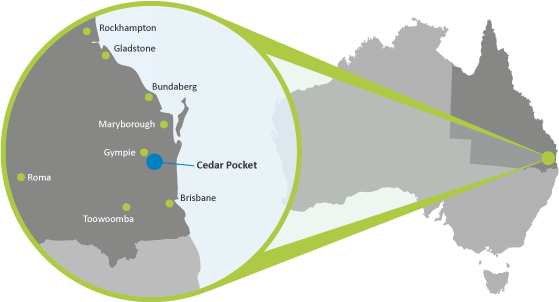 We released our final recommended 2013–17 prices for the Cedar Pocket Dam scheme in May 2013.
The Minister accepted our recommendations.
Cedar Pocket Dam water charges
| | 2013-14 | 2014-15 | 2015-16 | 2016-17 |
| --- | --- | --- | --- | --- |
| Fixed ($/ML WAE) | 7.25 | 9.51 | 11.85 | 14.30 |
| Variable ($/ML Use) | 36.94 | 37.87 | 38.81 | 39.78 |
In the Cedar Pocket Dam WSS, cost reflective volumetric charges increase when compared to 2012-13.
To maintain revenues, the balance not recouped by volumetric charges is recovered by fixed charges which are lower compared to 2012-13.
As current revenues are below cost-reflective revenues, the QCA recommends price paths where fixed charges increase annually by $2 per ML (plus inflation) until cost-reflective levels are reached. Volumetric charges are increased at inflation over the balance of the regulatory period.
This Seqwater water scheme review forms part of the review that we undertook in 2012–13 for the Queensland Government: the Seqwater irrigation price review 2013–17.
You can read more about the pricing review on our project home page.  You can also view the submissions for the water schemes that we received, the consultants' reports and issues arising from face-to-face consultation with stakeholders.
We recommended a new irrigation price path, to apply from July 2013 to June 2017—with prices moving in a direction that better reflect costs.
Key to the findings were the recovery of Seqwater's costs and the smoothing of future price increases.
All Seqwater schemes will now have two-part tariffs consisting of a fixed (Part A) price per megalitre (ML) of nominal water allocation and a usage (Part B) price per ML of water use.
For the majority of schemes, our recommended prices result in increases to fixed prices and reductions in usage prices.